Obama is turning to Axelrod and Gibbs for help (Sep 18, 2013)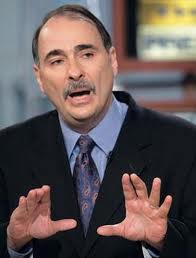 Posted by American News Online
Reported by By Amie Parnes - 09/18/13 06:00 AM ET THE HILL

A struggling President Obama is calling for help from members of his first-term A-Team, who have left the White House for other jobs.
With his poll numbers falling and his second-term floundering so far, Obama has sought help from the former aides who helped catapult him to the presidency.When the president held a recent strategy meeting on the Syria conflict, for example, he invited former political adviser David Plouffe, former White House press secretary Robert Gibbs, former chief speechwriter Jon Favreau and former National Security Council spokesman Tommy Vietor to attend.
Ex-advisers like Plouffe, Gibbs and David Axelrod routinely participate in calls with current White House staffers, and Obama has invited the first-term all-stars to strategy sessions on other issues too, former aides said.
One former aide described Obama's trusted inner circle from the first term as "the originals," and speculated that if they were still at the White House they could have helped prevent some of Obama's second-term blunders, such as the decision Monday to give a fiery speech criticizing Republicans just hours after 12 people were gunned down a few miles away at the Navy Yard.
"I don't think he would have made that kind of mistake in the first term," one former administration official said on Tuesday. "Sometimes it feels like there's a void over there. There are some new, extraordinary folks over there, but it definitely leaves something to be desired."
Former Obama aides and other political observers say that, while the White House is chock full of talent, the campaign-type mentality of first-term aides who sought to win every messaging cycle is missing.
"Not to say there aren't still good people in the White House, but the people the president most relied on in those areas have left," New York Magazine's John Heilemann said Tuesday on MSNBC's "Morning Joe."
"That's a common phenomenon a lot of presidents face in their second term, but it seems to be hurting them," he said. "The absence of a guy like David Plouffe is huge right now."
The White House on Tuesday, for a second day in a row, stood by its approach on Obama's speech.
"Look, I understand some Republicans are trying to make something of this," White House press secretary Jay Carney said. "The president spoke about the Navy Yard at the very top of his briefing. He talked about the cowardly act that has taken place, the tragedy that was unfolding and the loss of life. And he called for and demanded a seamless investigation with federal and local law enforcement officials. And that is what we're seeing now."
To be sure, Obama has had some of the same faces around him during the second term, including Carney. Chief of staff Denis McDonough, whom many have credited with re-engaging lawmakers and their staffs on Capitol Hill, has been around since 2008, along with senior adviser Valerie Jarrett; Dan Pfeiffer, the former communications aide who has moved up the ranks to become one of Obama's senior advisers; deputy chief of staff Alyssa Mastromonaco; and principal deputy press secretary Josh Earnest.
Vietor, who had been with Obama since his Senate days before leaving the White House earlier this year, dismissed the claims that the meetings and calls indicate there's a lack of competence at the White House.
"I remember a lot of days [during the first term] when people were accusing us of communications failures," Vietor said Tuesday, adding that even in the first term, the White House often enlisted the help of outside advisers.
But Vietor emphasized, "The people in that building are incredibly capable."
Tony Fratto, who served as deputy press secretary to former President George W. Bush credits Obama with having what he called "one of the most successful first terms in history."
"They had some mistakes in the first term, but they also had really big accomplishments to paper over the mistakes," Fratto said.
Fratto added that he's unsure if having Plouffe or Axelrod around in recent weeks would have helped Obama.
Former Obama aides, however, maintain that there has been a messaging problem at the White House ever since Obama won reelection. And they say that aides need to do a better job reasserting the narrative that Obama is, as one put it, the "aggressive champion of the middle class."
The storyline has been missing, they said, and it's starting to show.
"Second terms are always more difficult when it comes to driving the narrative," one former aide said. "It's much easier for a second term to be overtaken by events, which ups the need to play offense each and every day."