Cantor warns House may cancel recess (Sep 12, 2013)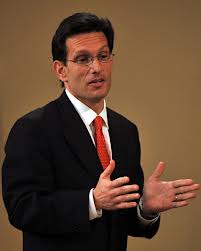 -

Reported by THE HILL

Posted by American News Online



Read more: http://thehill.com/blogs/floor-action/house/321869-cantor-says-house-may-need-extra-week-to-pass-spending-bill#ixzz2ehuj5Fy1
Follow us: @thehill on Twitter | TheHill on Facebook

House Majority Leader Eric Cantor (R-Va.) warned Thursday the House might be forced to cancel its September recess to work on a government funding bill.

The House was originally scheduled to have the week of Sept. 23 off, but Cantor said lawmakers might have to return to Washington that week and maybe the following weekend to prevent a government shutdown.

"Members are advised that pending ongoing discussions on the continuing resolution, the House may be in session during the week of Sept. 23 and possibly into the weekend," Cantor said on the House floor.



"Members should expect an announcement next week regarding when the House would meet during the week of Sept. 23," he said.

The government will shut down on Oct. 1 if Congress doesn't pass a new funding measure, but Cantor offered no indication of how Republicans will make that deadline.

House GOP leaders were hoping to pass a short-term spending resolution on Thursday and tie it to language that would defund ObamaCare in 2014. But leaders pulled that resolution from consideration this week in order to have more time to pull together support for that bill.

Many Republicans criticized the plan for making it too easy for the Senate to ignore Republicans' demand to defund ObamaCare.

Under the tentative GOP plan, the House would pass a short-term continuing resolution to fund the government through Dec. 15 and then another resolution defunding ObamaCare. Republicans eager to defund the healthcare law seemed to worry that the Senate would simply ignore the second resolution.


Cantor made his remarks in the context of his weekly discussion with Minority Whip Steny Hoyer (D-Md.), who urged Republicans to work with Democrats on a solution to 2014 funding and the pending debt ceiling problem.

But Hoyer said Democrats are not interested in passing bills that include drastic cuts to the government and argued that many Republicans seem to oppose these cuts as well. Hoyer cited comments from House Appropriations Committee Chairman Hal Rogers (R-Ky.), who said earlier this year that a decision to pull a Transportation/Housing spending bill shows that GOP leaders are conceding that their own cuts cannot find support among Republicans.

"We will not pursue what Mr. Rogers correctly observes is an unsustainable and damaging process," Hoyer said. "We will not compromise on that issue because your chairman is correct: It's harmful to our country."

Cantor responded by saying Republicans will continue to seek compromise on the issue of spending and the debt ceiling. Cantor also rejected the idea put forward by Treasury Secretary Jack Lew that there cannot be any negotiation on spending in the context of the debt ceiling.

"History has shown us that in periods of divided government … there's always been discussions around the fiscal issues of this country," Cantor said. "And in fact, the issue of the debt ceiling has provided a forum for resolution on some of those fiscal issues."

Cantor then urged Hoyer to "take his dedication to trying to work things out to the White House."

Hoyer responded saying that the GOP effort to link 2014 spending to ObamaCare will put any compromise at risk and threatens a government shutdown.

"Your myopic focus on that one issue threatens to shut down government and put at risk the creditworthiness of the United States of America," he said.