Obama backs UN effort on Syria, but Russia has demands (Sep 10, 2013)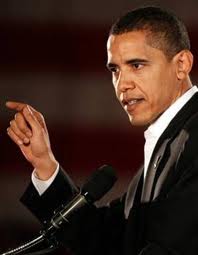 Posted by American News Online
Reported by THE HILL
By Justin Sink and Alexander Bolton - 09/10/13 02:40 PM ET

President Obama will back a U.N. effort to secure Syria's chemical weapons stockpiles, the White House said Tuesday.
Obama's embrace of a diplomatic means of settling the dispute with Syria comes ahead of an address he is scheduled to make Tuesday night from the Oval Office.
That speech had been designed to build support for votes in the House and Senate on military strikes against Syria, but it now looks more likely that it will address the diplomatic effort the president and members of his cabinet have hailed as significant. Obama is meeting Tuesday with Senate Republicans and Senate Democrats in separate meetings on Capitol Hill.
Members of the Senate are working on a new use-of-force resolution in response to moves by Russia and Syria that would prevent a strike by having Syria give up its chemical weapons to international control.
The resolution in the works would only authorize military action if Syria refuses to relinquish its stockpile. The outline under discussion by the nine lawmakers would require the United Nations to pass a resolution stating that Syrian President Bashar Assad gassed his own people. It would also call on the U.N. to remove all of Syria's chemical weapons by a certain date.
The resolution would authorize U.S. military action if those goals are not met, according to a source familiar with the negotiations.
Russia, however, said Tuesday it would not agree to a deal unless the U.S. agreed that air strikes were off the table.
"Certainly, this is all reasonable, it will function and will work out, only if the US and those who support it on this issue pledge to renounce the use of force, because it is difficult to make any country – Syria or any other country in the world – to unilaterally disarm if there is military action against it under consideration," Russian President Vladimir Putin told Russian television network RT.
The fate of votes in the House and Senate on more immediate military strikes on Syria appears uncertain. Opposition to giving Obama authorization to strike Syria had built up, casting doubt on the administration's ability to win a vote.
In response to Russia's and Syria's offer on Monday, Senate Majority Leader Harry Reid (D-Nev.) canceled a procedural vote scheduled for Wednesday on authorizing a limited military strike on Syria.
The group of senators working on a new deal, however, does not yet have legislative text and has yet to determine what if any limits would be placed on military action.
A source familiar with the talks said the senators working on the new language include Senate Foreign Relations Committee Chairman Robert Menendez (D-N.J.) and Sens. John McCain (R-Ariz.), Kelly Ayotte (R-N.H.), Lindsey Graham (R-S.C.), Saxby Chambliss (R-Ga.), Charles Schumer (D-N.Y.), Carl Levin (D-Mich.), Chris Coons (D-Del.) and Bob Casey Jr. (D-Pa.).
According to the White House, Obama spoke separately to French President François Hollande and British Prime Minister David Cameron on Tuesday morning on a Russian-brokered plan that would have Syria relinquish its chemical weapons to international control.
"They agreed to work closely together, and in consultation with Russia and China, to explore seriously the viability of the Russian proposal to put all Syrian chemical weapons and related materials fully under international control in order to ensure their verifiable and enforceable destruction," the White House official said.
"These efforts will begin today at the United Nations and will include a discussion on elements of a potential U.N. Security Council resolution."
Sergey Lavrov, the Russian foreign minister, has said officials are working on a plan to transfer Syrian chemical weapons to international control. French officials are pushing a resolution to grant U.N. approval of the weapons transfer.
Reid on Tuesday endorsed the potential deal and said he would delay a Senate vote authorizing military intervention in Syria to give international negotiators more time.
"If there is a realistic chance, and I certainly hope there is, to secure Syria's chemical weapons that brought further atrocities of the Assad regime, we shouldn't turn our backs on that chance," he said.
Reid emphasized, however, that international negotiators would have a limited window to reach agreement.
"For such a solution to be plausible, the Assad regime must act quickly to prove their offer is real, not merely a ploy to delay military action or action of the United States Senate."
"As I said last night, it's appropriate to allow other conversations to go on," Reid said. "France, Russia, and we understand Syria is involved in this.
"This is aimed at avoiding military action. We'll have to see if this works out," he said.
Separately from the bipartisan group, Sen. Jeanne Shaheen (D-N.H.) has already drafted legislative text for a measure that would require Syria to give up its weapons.
Under Shaheen's proposal, Obama would only have authorization to launch strikes if "Syria is not taking credible and concrete steps toward the removal and destruction of [its] chemical weapons stockpile," according to text provided by a Senate aide.