Conservative Erna Solberg triumphs In Norway Election (Sep 10, 2013)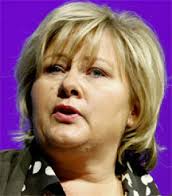 Posted by American News Online
Reported by: BBC News Europe
BY: Lars Bevanger
Norwegian centre-right leader Erna Solberg is set to form a new government after Labour Prime Minister Jens Stoltenberg admitted election defeat.
Ms Solberg described her win as "a historic election victory for the right-wing parties".
Her Conservative Party is widely expected to form a government with the anti-immigration Progress Party.
It is oil-rich Norway's first general election since attacks by a far-right extremist left 77 people dead in 2011.
---
Prime Minister Jens Stoltenberg admitted defeat in front of a rapturous Labour Party. They showed their gratitude for the way he had led his party and the country through the worst terror attack in peace time when Anders Breivik killed 77 mainly young Labour supporters.
After eight years, Jens Stoltenberg's Labour-led coalition no longer holds sway in parliament, despite steering the country safely through the economic crisis and overseeing a booming economy with very low unemployment.
Many here put this result down to voter fatigue with the current government. But the opposition says it has fresh and different plans to make sure Norway's economy stays strong - after the current oil wealth that has made this one of the world's wealthiest countries starts to run out.
The leader of the Conservative Party, Erna Solberg, will now start work on negotiating a coalition with other centre-right parties.
With three-quarters of the votes counted, the bloc of four right-wing parties had won 96 of 169 seats in parliament.
Ms Solberg, 52, will become Norway's second female prime minister after Gro Harlem Brundtland, and its first Conservative prime minister since 1990.
She is nicknamed "Iron Erna" for her robust views when she served in the cabinet between 2001 and 2005.
Much attention is now focused on the Progress Party, poised to enter government for the first time.
Ms Solberg also needs a third coalition partner to ensure a majority - but it is not yet clear whether the smaller Christian Democrats or Liberals are prepared to work with the Progress Party. They may instead opt to stay out, but give parliamentary support to a minority government comprising the Conservatives and Progress.
Correspondents say the Progress Party has toned down its anti-immigration rhetoric since Anders Behring Breivik's atrocity in 2011.
The vote was Norway's first general election since the far-right extremist killed 77 people in an Oslo bombing and a gun attack at a Labour Party youth camp. Breivik had previously been a member of the Progress Party.
A sharply critical report last year on police blunders in their response to the attack is reckoned to have undermined support for Mr Stoltenberg.
Oil wealth
Welfare issues dominated the election campaign, as well as Ms Solberg's pledge to lower taxes and diversify the economy away from its heavy reliance on oil revenue.
That oil wealth cushioned Norway from Europe's financial crisis and the country's unemployment is so low - less than 3% - that foreign workers are still needed to fill many jobs.
The conservative leader also wants more privatisation to boost Norway's international competitiveness, but there is a broad consensus on free public healthcare and education.
The Progress Party is among those pushing for more spending from Norway's vast sovereign wealth fund, worth about $750bn (£479bn) - a potential point of dispute with the Conservatives.
Labour still emerged the biggest party in terms of votes, but would be unable to form a majority again with its leftist allies.
Mr Stoltenberg said he would step down after presenting the budget next month.
"In accordance with Norwegian parliamentary tradition, I will seek the resignation of my government after the presentation of the national budget on October 14, when it's clear that there is a parliamentary basis for a new government," he said.
The Labour leader, prime minister since 2005, congratulated Ms Solberg.
He said his party tried "to do what almost no-one has done, to win three elections in a row, but it turned out to be tough".
Ms Solberg told supporters in Oslo: "Today the voters have produced a historic election victory for the right-wing parties. We will give this country a new government."
Correspondents say at least the top two cabinet posts - and possibly the top three - are likely to be filled by women.