Fort Hood Jihad Murderer Dishonorably Discharged and Gets To Keep $300,000 Salary Received Since Jihad Attack (Sep 07, 2013)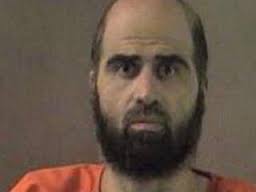 Posted by American News Online
Reported and Posted by Gateway Guest Blogger on Friday, September 6, 2013, 6:23 PM Mara Zebest
Our tax dollars at work towards creeping sharia since there's a good chance Nidal Hasan applies his salary money towards support of Jihadist groups and efforts.
JihadWatch makes a great point and reports the following:
That money should be distributed among his victims and their families. "Fort Hood Shooter Nidal Hasan Dishonorably Discharged, No Longer Major: Removed from Army, Fort Hood shooter to be paid until Sept. 10," by Greg Janda for NBCDFW.com, September 5 (thanks to Kenneth):
Fort Hood shooter Nidal Hasan has been dishonorably discharged from the United States Army, according to military officials.
NBC 5 DFW Investigates spoke with Chris Haug, Chief of Media Relations at Fort Hood.
Haug said, according to the Senior Judge Advocate General at Fort Hood, Hasan is "no longer a military serviceman. He has no rank and is dishonorably discharged from the Army" following his court martial and sentencing for the mass shooting at Fort Hood in 2009.
Haug said going forward, Hasan will be called simply "inmate Nidal Hasan" at the United States Disciplinary Barracks at Fort Leavenworth in Kansas.
Haug detailed that it will technically take some time until the paperwork is signed removing Hasan from the Army's ranks. But Haug said the order will eventually be signed and backdated to the date of conviction, effectively removing Hasan from the Army as of his conviction date.
A military panel also ordered that Hasan be stripped of his military pay. However that order will not take effect until place 14 days following his sentencing. Hasan will continue to receive his full military salary until Sept. 10.
Earlier this year, NBC 5 Investigates was the first to report that the Department of Defense showed Hasan had been paid about $300,000 after his arrest for the Nov. 5, 2009, shooting.
After the NBC 5 investigation aired, three U.S. Representatives have drafted legislation that would stop military payments to soldiers awaiting trial for major crimes. The money would be returned to the solider if they are acquitted but if they are found guilty the money would go to the victims.
The $300,000 in payments already made to Hasan are unlikely to be returned to the military. However, Army officials could consider launching a "line of duty" investigation to determine if Hasan is liable for the payments incurred for treatment of the injuries he sustained when police responding to the attack shot him. Victims of the attack are also pursuing a civil lawsuit against Hasan.