United States says Iran Plots Revenge (Sep 06, 2013)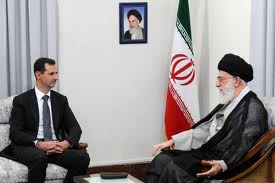 By
ADAM ENTOUS Wall St. Journal
Posted by American News Online
Military officials have been trying to predict the range of possible responses from Syria, Iran and their allies. U.S. officials said they are on alert for Iran's fleet of small, fast boats in the Persian Gulf, where American warships are positioned. U.S. officials also fear Hezbollah could attack the U.S. Embassy in Beirut.
While the U.S. has moved military resources in the region for a possible strike, it has other assets in the area that would be ready to respond to any reprisals by Syria, Iran or its allies.
Those deployments include a strike group of the USS Nimitz aircraft carrier and three destroyers in the Red Sea, and an amphibious ship, the USS San Antonio, in the Eastern Mediterranean, which would help with any evacuations.
The U.S. military has also readied Marines and other assets to aid evacuation of diplomatic compounds if needed, and the State Department began making preparations last week for potential retaliation against U.S. embassies and other interests in the Middle East and North Africa.
U.S. officials began planning for a possible strike on Syrian regime assets after the Aug. 21 attack outside Damascus in which the U.S. says Syrian government forces killed over 1,400 people using chemical weapons. The U.S. military has prepared options for an attack and beefed up its military resources in the region, including positioning four destroyers in the Eastern Mediterranean.That process slowed last weekend when Mr. Obama said he would first seek an authorization for using military force from Congress.
A delay in a U.S. strike would increase opportunities for coordinated retaliation by groups allied with the Assad government, including Shiite militias in Iraq, according to U.S. officials.
The destroyers positioned in the Eastern Mediterranean are equipped with—in addition to Tomahawk missiles that could be used against Syria—the Standard Missile-3, which could be used to intercept ballistic missiles should Iran launch a retaliatory strike, officials said.
Israel has so far been the focus of concerns about retaliation from Iran and its Lebanese militant ally Hezbollah. The commander-in-chief of Iran's elite Revolutionary Guard Corps said last week that an attack on Syria would lead to the "destruction of Israel."
The State Department issued a new alert on Thursday warning against nonessential travel to Iraq and citing terrorist activity "at levels unseen since 2008." Earlier this year, an alert said that violence against Americans had decreased. That reassurance was dropped from the most recent alert.
The Iranian message, intercepted in recent days, came from Qasem Soleimani, the head of Revolutionary Guards' Qods Force, and went to Iranian-supported Shiite militia groups in Iraq, according to U.S. officials.
In it, Mr. Soleimani said Shiite groups must be prepared to respond with force after a U.S. strike on Syria.
Iranian officials on Friday denied their government was plotting attacks in Iraq against the U.S.
Alireza Miryousefi, a spokesman for Iran's United Nations mission, said the allegation was baseless and meant to "provoke the Congress" into authorizing a strike on Syria.
"We should remember that relying on U.S. intelligence reports from anonymous officials will repeat the tragedy of Iraq," he said.
Iraqi Shiites have been sympathetic to the Alawite-dominated government of Syria and oppose U.S. strikes against the regime of President Bashar al-Assad.
U.S. officials said the U.S. Embassy in Baghdad was one likely target. The officials didn't describe the range of potential targets indicated by the intelligence.
Attacks on the U.S. Embassy in Baghdad have fallen since American forces left Iraq. In the past, Iranian-trained Shiite groups have fired rockets and mortars at the embassy, at the urging of the Qods Force, a paramilitary arm of the IRGC.
Militants also have used suicide bombers and IEDs to attack Americans leaving the embassy compound, one of the largest American diplomatic facilities in the world, located in Baghdad's fortified Green Zone.
Syrians could also respond with "a vicious offensive" against the opposition inside Syria, said Aaron David Miller, a former top Middle East negotiator in the State Department who now is a vice president at the Woodrow Wilson Center. Such a move, he said, would be a way "to demonstrate defiance" without running the risk of hitting American targets.