Ted Cruz enjoys clear edge among tea party activists at Americans for Prosperity summit (Sep 01, 2013)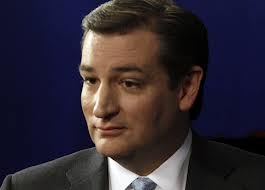 By , Washington Post Political
Posted by American News Online
ORLANDO — There was no question who was the favorite among the crop of possible 2016 Republican White House candidates who wooed conservative activists at a two-day conference here this weekend.
Loud chants of "Run, Ted, run!" filled a hotel ballroom packed with more than 1,500 people Saturday after Sen. Ted Cruz (Tex.) finished excoriating President Obama's administration and challenging Republicans to use an upcoming budget vote to try to force through a measure to defund the Affordable Care Act. "How do you win this fight?" he asked, and the audience responded in unison with him: "Don't blink!"
Cruz was the last in a series of prominent Republicans who made their pitches at the "Defending the American Dream" summit sponsored by the Americans for Prosperity Foundation, a key player in the tea party movement. He followed Sen. Marco Rubio (Fla.), Texas Gov. Rick Perry and Louisiana Gov. Bobby Jindal, all of whom addressed the organization Friday.
While the others were warmly received — absent some activists who heckled Rubio over his immigration stance — the reception for Cruz was nothing short of adoring.
Americans for Prosperity President Tim Phillips introduced the senator from Texas as "a rising leader — mark my words — a rising leader for this nation and for our cause."
"Ted Cruz, I love you!" a man shouted as Cruz took the stage to a sustained standing ovation.
The senator beamed, taking in the cheers.
"Let me start with a word of warning," he said. "By virtue of each of you being here today, tomorrow morning you are going be audited by the IRS. So I appreciate the courage of your convictions!"
The enthusiastic response underscored Cruz's rapidly rising profile among tea party activists, a constituency that helped power his upset victory against Texas Lt. Gov. David Dewhurst in the 2012 state primaries.
Since then, Cruz has emerged as a key figure in the movement, working closely with groups such as Heritage Action for America and Senate Conservatives Fund in a campaign demanding that a short-term spending bill in September include a measure defunding Obama's health-care law — a tactic many GOP leaders regard as a risky political gambit.
On Saturday, Cruz lambasted the stance taken by many of his Republican colleagues.
"Right now, the people who are fighting the hardest against our effort to defund Obamacare are sadly Republican," he said. "Over and over again, they say, 'We can't win this fight.' Well, you know — you lose 100 percent of the fights that you surrender at the outset."
Afterward, Jan Cummins, an activist from Orlando, pronounced Cruz "fabulous."
"Oh my God, everything he said was spot on," she said. "I've been hearing so much buzz about him, but I had never seen him in a full speech from start to finish. And I was terribly impressed. I would vote for him."
The two-day summit was an effort by conservative organizers to rally the troops to reengage and shake off the dismay they felt after losing the 2012 presidential contest. Throughout the event, Americans for Prosperity officials stressed the victories they were having at the state level with issues such as tax and pension reforms.
"Immediately after the election, a lot of people were very discouraged," said Jeff Lukens, a Tampa area Republican leader and tea party activist. "No one came to the meetings. It was very disheartening — people just dropping out. But it's slowly coming back, people realizing they can't just quit. There are a lot of us that are going to fight on, regardless — we're in this for the long haul."