55 House members say Obama needs approval from Congress on Syria (Aug 28, 2013)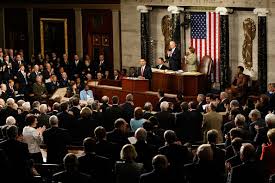 Posted by American News Online
Reported by: Rebecca Shabad - 08/28/13 10:25 AM ET
The Hill
Fifty-five lawmakers including eight Democrats have signed a letter that says President Obama would violate the Constitution by striking Syria without first getting authorization from Congress.
"Engaging our military in Syria when no direct threat to the United States exists and without prior congressional authorization would violate the separation of powers that is clearly delineated in the Constitution," states the letter, spearheaded by Rep. Scott Rigell (R-Va.). Rigell intends to deliver the letter to the White House this afternoon and will continue to seek signatures until noon, his communications director, Kim Mosser Knapp, tells The Hill.
The Democrats who have signed the letter so far are Reps. Zoe Lofgren (Calif.), Rush Holt (N.J.), Gene Green (Texas), Beto O'Rourke (Texas), Peter DeFazio (Ore.), Kurt Schrader (Ore.), William Enyart (Ill.) and Timothy Walz (Minn.).
The number of signatures on the letter has more than doubled since Tuesday, highlighting bipartisan interest in ensuring a role for Congress in any decision to use force in Syria.
Rigell has called on Obama to bring Congress back to Washington early to consider the authorization of military force against Syria.
"If you deem that military action in Syria is necessary, Congress can reconvene at your convenience," he letter states.
The congressman also wrote that the president's decision to authorize the 2011 U.S. military in Libya without Congress's green light was unconstitutional.
News reports suggest U.S. strikes on Syria could begin as early as Thursday. Congress is not set to return to Washington until Sept. 9.
The administration has reached out to discuss its thinking with lawmakers on several committees, as well as Speaker John Boehner (R-Ohio).


Read more: http://thehill.com/blogs/blog-briefing-room/news/319127-55-house-members-say-obama-needs-approval-from-congress-in-syria-strikes#ixzz2dH7iVimZ