Hagel Says U. S. is ready to go on Syria (Aug 27, 2013)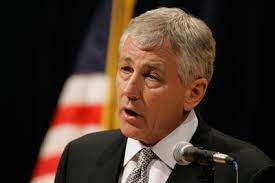 Posted by American News Online
Reported by: Blake Neff - 08/27/13 09:08 AM ET
The Hill
Secretary of Defense Chuck Hagel told the BBC Tuesday that the United States was "ready to go" if orders came from President Obama to launch military strikes against Syria in response to an alleged chemical weapon attack on civilians.
We have moved assets in place to be able to fulfill and comply with whatever option the president wishes to take," said Hagel, who was visiting the Southeast Asian country of Brunei.
Separately, NBC reported that three days of strikes on Syria could begin as early as Thursday. U.S. officials told NBC the strikes would be limited in scope and would be aimed at sending a message to Syria's President Bashar Assad rather than degrading his military capabilities.
Hagel expressed strong confidence that a chemical attack had occurred and that Assad's government was responsible.
Hagel dismissed Russian claims that any intervention in Syria without the approval of the UN Security Council would be against international law.
"No nation, no group of nations, is bound by only one dimension of whether they make a decision to respond ... to the kind of humanitarian violations that we saw in Syria."
Asked by the BBC reporters whether military action was inevitable given Washington's recent rhetoric, Hagel insisted that such a decision had not yet been made.
"Let's get the facts, let's get the intelligence, and then a decision will be made on whether action will be taken, if action should be taken, what action, or no action," he said.
A U.S. official said Hagel would speak with the defense ministers of the United Kingdom and France soon, though an exact timeline was not given.
The Washington Post reported Obama is considering a military strike against Syria that is limited in scope in the hopes of preventing the United States from becoming ensnarled in the country's bloody civil war, according to a report in the Washington Post. The attack would likely last no more than two days and involve either sea-launched cruise missiles or long range bombers striking military targets within the country, the paper reported.
The bombing would also not necessarily strike targets directly related to the country's chemical weapons arsenal. Instead, the hope is that the abbreviated military strike would deter continued use of chemical weapons, while punishing the Assad regime for the alleged use of rockets laced with poison gas.
Separately, CNN reported Monday night that a senior administration official told the network Obama was on an "abbreviated timeline" to make a decision on how to react in Syria. The official also said that the White House expects to be presented with military options within the next few days, and that American forces could strike in hours if so ordered by the president.
The official also said that any action taken would not be to "punish or embarrass" Assad, but rather "we would be sending a message of accountability."
- Justin Sink contributed


Read more: http://thehill.com/blogs/global-affairs/middle-east-north-africa/318903-hagel-u-s-is-ready-to-go-on-syria#ixzz2dBG5rFfK