Conservative blacks irritated with liberal flavor of march anniversary (Aug 27, 2013)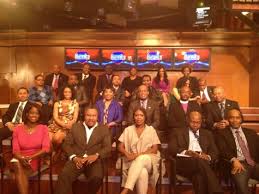 Posted by American News Online
Reported by: Niall Stanage - 08/27/13 06:00 AM ET
The Hill
Black conservatives are rankled by the liberal flavor of events commemorating the 50th anniversary of the March on Washington.
They contend the left is appropriating the Rev. Martin Luther King Jr.'s memory and willfully understating the degree of progress the United States has made in overcoming the egregious racial injustices that characterized an earlier era.
They also argue Americans aren't hearing the right message from leaders — mainly Democratic and liberal — who will celebrate the anniversary from the Lincoln Memorial on Wednesday.
Mia Love, the Republican mayor of Saratoga Springs, Utah, is black and was born in Brooklyn, N.Y.
She contends that modern-day civil rights activists, in league with the Democratic Party, de-incentivize personal responsibility and economic independence.
"I believe Dr. King would be saddened by the way that some of these leaders are telling Americans that they are victims and their only hope for a better future is a government handout," she said. "It does nothing but keep black Americans dependent."
Herman Cain, who sought the 2012 Republican presidential nomination, told The Hill that if King were alive today, "he would say congratulations on the progress that you have made as a nation and that black people have made in the last 50 years."
"But he would also say shame on you as a nation for where you have lost ground," said Cain, who pointed to rising racial tensions and several downward trend-lines.
"We have lost ground, especially black people, on the number of people graduating from high school. We have lost ground, black people, on babies born out of wedlock. We have lost ground, a bit, on racial tension: I don't think it is as bad as the 50s and 60s but the flames have been fanned by some of the things in the media," he said.
Comments like Cain's point to the vastly different way economic issues are viewed, depending upon party allegiance.
Yet there is an even more fundamental divide between liberals and conservatives on the subject of race.
For many liberals, racial injustice continues to blight American society. Conservatives often contend that those on the left overstate the severity of the problem for their own ends.
The tension between the two viewpoints flared in the aftermath of last year's killing of 17-year-old African American Trayvon Martin and this year's trial of George Zimmerman, whose parents were Hispanic and white, and who was acquitted for Martin's murder.
They have also been seen over the last two weeks in the slaying of Christopher Lane, a white baseball player from Australia allegedly killed by three bored Oklahoma teenagers — two of them black.
Conservatives see a double standard in the way the media has treated the two incidents, while liberals note that arrests were immediately made in Lane's killing, while it took a public uproar for the police to arrest Zimmerman for shooting an unarmed black teenager.
Talk show host and self-described "constitutional conservative" David Webb is disdainful of those black civil rights leaders who, in his view, exacerbate racial grievances and capitalize upon them.
"What we've seen is people who've refused to advance," he said. "It's 2013, not the 1960s, but they are still having the 1960s argument. These are the CBC [Congressional Black Caucus], the NAACP, Al Sharpton, Jesse Jackson and all these other civil-rights profiteers."
Webb added: "Their stock-in trade is ... issues that keep them in positions where they need to be, whether it's for money, power or some combination."
"I think Martin Luther King's dream has been fulfilled," said Ron Christie, a Republican strategist who served as special assistant to President George W. Bush. "All men and women in this country are now treated equally. Legal discrimination has been outlawed."
Still, there are differences of opinion even among conservatives on this point.
Artur Davis served as a Democratic congressman representing Alabama before ultimately abandoning the party after a failed gubernatorial bid. Davis, who describes himself now as "a center-right Republican," spoke at the 2012 Republican National Convention in support of GOP presidential nominee Mitt Romney.
Davis argues that Republicans do themselves no favors when they insist that injustices have been banished.
"We do have racial inequality, we do have economic inequality that exists in this country," he said "Any strain of rhetoric that seems to deny that inequality exists is destined to fall flat in the black community."
Davis also contended that the GOP too often paid lip-service to "black outreach".
"There is an illusion that if you go on black radio stations, if you put black faces on TV, if you do your own version of events to commemorate the 50th anniversary, that will make enough of a statement. I think most people in the African-American community are not interested in statements, they're interested in policies."
The question of race has been front and center for the past five years, during the tenure of the first black president.
Obama has tended to be cautious on the subject but he has been more forthcoming of late, especially after the killing of Martin and subsequent acquittal of Zimmerman.
In the immediate aftermath of the killing Obama noted that "if I had a son, he'd look like Trayvon." Last month, after the verdict, he went one step further in that identification saying "Trayvon Martin could have been me 35 years ago" and offering a number of instances of racial stereotyping and prejudice that he had himself suffered as a younger man.
But even if those comments were lauded among Obama's supporters, they were among several reasons why Herman Cain calls the president's record on race relations "lousy."
He added: "There were expectations that he would set the proper tone for race relations in this country. He has not done so. The things that he has been outspoken about have simply created more friction."


Read more: http://thehill.com/homenews/news/318869-conservative-blacks-irritated-with-liberal-flavor-of-march-anniversary#ixzz2dBEaRJAz