NSA admits analysts purposefully violated citizens privacy rights (Aug 26, 2013)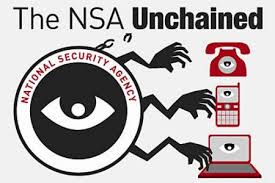 Posted by American News Online
Reported by The Hill
National Security Agency officials deliberately overstepped their legal authority multiple times in the past decade, the agency acknowledged on Friday.
The admission contradicts previous statements by lawmakers and the Obama administration that any privacy violations were unintentional.
"Over the past decade, very rare instances of willful violations of NSA's authorities have been found, but none under [the Foreign Intelligence Surveillance Act] or the Patriot Act," the agency said in a statement. "NSA takes very seriously allegations of misconduct, and cooperates fully with any investigations – responding as appropriate. NSA has zero tolerance for willful violations of the agency's authorities." According to Bloomberg News, which first reported on the NSA's statement, the violations were of Executive Order 12333, which was issued by President Reagan in 1981.
The admission comes days after the government released a 2011 court opinion that concluded that the NSA had unconstitutionally collected about 56,000 emails of Americans over a three-year period. The NSA said that incident and other legal violations were the result of technical glitches.
Last week, Senate Intelligence Committee Chairwoman Dianne Feinstein (D-Calif.) said she was unaware of any intentional privacy violations.
"As I have said previously, the committee has never identified an instance in which the NSA has intentionally abused its authority to conduct surveillance for inappropriate purposes," she said in a statement.
Feinstein made the comment after The Washington Post published an internal NSA audit finding that the agency illegally obtained private communications thousands of times in recent years. But the news report did not identify any deliberate violations.
"The disclosed documents demonstrate that there was no intentional and willful violation of the law and that the NSA is not collecting the email and telephone traffic of all Americans," House Intelligence Committee Chairman Mike Rogers (R-Mich.) said at the time.
"The committee does not tolerate any intentional violation of the law. Human and technical errors, like all of the errors reported in this story, are unfortunately inevitable in any organization and especially in a highly technical and complicated system like NSA," he added.
Josh Earnest, the White House deputy press secretary, only echoed Feinstein's statement that her committee had not identified deliberate abuse.
"Rather, the majority of the compliance incidents are unintentional," Earnest said at the time.
One official told Bloomberg that the actions were the result of "overzealous NSA employees or contractors eager to prevent any encore to the September 11, 2001, terrorist attacks."


Read more: http://thehill.com/blogs/hillicon-valley/technology/318515-nsa-admits-analysts-purposefully-violated-privacy-rights#ixzz2d5SlSOf8