North Carolina governor signs extensive Voter ID law (Aug 13, 2013)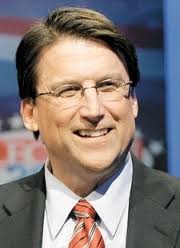 Posted by American News Online
Reported by Washington Post
By: Aaron Blake August 12, 2013
North Carolina Gov. Pat McCrory (R) on Monday signed into law one of the nation's most wide-ranging Voter ID laws.
The move is likely to touch off a major court battle over voting rights, and the Justice Department is weighing a challenge to the new law, which is the first to pass since the U.S. Supreme Court struck down part of the Voting Rights Act.
The measure requires voters to present government-issued photo identification at the polls and shortens the early voting period from 17 to 10 days. It will also end pre-registration for 16- and 17-year-old voters who will be 18 on Election Day and eliminates same-day voter registration.
Democrats and minority groups have been fighting against the changes, arguing that they represent an effort to suppress the minority vote and the youth vote, along with reducing Democrats' advantage in early voting. They point out that there is little documented evidence of voter fraud.
Republicans say that the efforts are necessary to combat such fraud and that shortening the window for early voting will save the state money. They also note that, while the North Carolina law makes many changes to how the state conducts its elections, most of its major proposals — specifically, Voter ID and ending same-day registration — bring it in line with many other states. More than three-fifths of states currently have some kind of Voter ID law, and even more have no same-day registration. Not all states allow in-person early voting.
"While some will try to make this seem to be controversial, the simple reality is that requiring voters to provide a photo ID when they vote is a common-sense idea," McCrory said in a statement. "This new law brings our state in line with a healthy majority of other states throughout the country. This common-sense safeguard is commonplace."
A spokesman for the Democratic Governors Association said McCrory's "cynical" move will come back to haunt him.
"When he ran for governor, Pat McCrory pretended to be a moderate pragmatist," the spokesman, Danny Kanner, said. "Today, he proved that he's just another cynical, ultra-conservative ideologue intent on disenfranchising voters who might not be inclined to vote Republican."
While there is significant resistance to Voter ID laws on the left, polls generally show the American people support them by large margins. Recent North Carolina polls and a Washington Post poll last year showed nearly three-quarters support requiring voters to show photo ID.
The Post poll also showed, though, that Americans are split when it comes to whether it's more important to fight voter suppression or to combat voter fraud. And while Voter ID polls popularly, the bill covers much more than that.
Several similar efforts have passed in recent years in other states with Republican-controlled state legislatures and GOP governors, but North Carolina's has drawn a particularly high degree of backlash from the left, given how far-reaching and all-inclusive the new law is.
The Justice Department has suggested it will fight the new law, which comes just weeks after the U.S. Supreme Court struck down a key portion of the Voting Rights Act. States like North Carolina are no longer required to obtain preclearance from the Justice Department for such changes after the Court struck down the formula used for determining which states and jurisdictions with a history of voter suppression require preclearance.
The Justice Department is also looking to challenge a new Voter ID law in Texas and has also fought against a new Voter ID law in Florida.
The other big change in the law — a reduction in the number of early-voting days — could diminish Democrats' historical advantage in early voting, which accounted for more than half of ballots cast in North Carolina last year.
But Republicans note that the law still requires the same number of hours of early voting — just over a smaller period of time. County election officials can either extend hours on a given day or provide more early voting locations.
Other provisions in the new North Carolina law would prohibit paid voter registration drives, end straight-ticket voting (in which a voter can vote for all candidates of one party by voting just once — another area in which Democrats benefit) and loosening restrictions on poll watchers who can challenge a voter's eligibility.
The state legislature gave the law final approval in late July.
The changes come as the state has fallen under Republican control for the first time in more than a century. North Carolina's state legislature went Republican for the first time since Reconstruction after the 2010 election. McCrory then won in 2012, becoming the state's first Republican governor since the early 1990s.
McCrory also recently signed an extensive new abortion restrictions law – another move that has earned him significant opposition from the political left.