Hillary Clinton talks voting rights (Aug 13, 2013)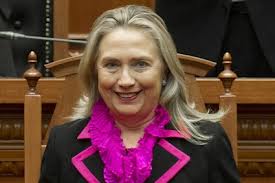 Posted by American News Online
Reported by The Hill
By: Alexandra Jaffe - 08/12/13
Former Secretary of State Hillary Clinton laid out a series of proposals to protect voting rights on Monday, her first clear foray into political issues in advance of what many expect to be a 2016 presidential run.

Speaking to the American Bar Association's annual meeting in San Francisco, Clinton slammed a "sweeping effort to construct new obstacles to voting, often under cover of addressing a phantom epidemic of 'election fraud.'" She also criticized the Supreme Court's recent ruling on the Voting Rights Act (VRA), which overturned a plank requiring jurisdictions with a history of discrimination to preclear any changes to their voting laws with the federal government.

"Unless the hole opened up by the Supreme Court's ruling is fixed, future cases like these will end very differently, citizens will be disenfranchised, victimized by the law instead of served by it and that progress, that historical progress toward a more perfect union, will go backwards instead of forwards," she said.
It was one of Clinton's most overtly political speeches since her re-emergence into the public eye after stepping down as secretary of State. Clinton has given numerous paid speeches to various trade and industry groups, often speaking on her personal experiences or issues affecting the industry in question.

But she's largely avoided such hot-button issues as voting laws, which made headlines during the 2012 cycle as Democrats accused Republican-led state legislatures of moving to restrict voting rights in an effort to depress the Democratic vote.

Voting rights advocates say many new voting laws disproportionately affect minorities and young voters, which typically vote Democratic.

Indeed, Clinton criticized an "unseemly rush by previously covered jurisdictions to enact or enforce laws that will make it harder for millions of our fellow Americans to vote," since the Supreme Court's ruling.

She also suggested a three-pronged response to the new voting laws made possible by the Court's decision: increased enforcement of the rest of the VRA by the Justice Department, new legislation from Congress reinforcing the principles of the VRA and making information on new laws more easily accessible to the public, and increased efforts by grassroots groups and lawyers to protect voting rights.

The speech was a pivot to what she said Monday would be a series of policy-focused addresses, which could begin to lay the groundwork for a possible 2016 bid.
"Next month, at the National Constitution Center in Philadelphia, I will talk about the balance and transparency necessary in our national security policies as we move beyond a decade of wars to face new threats and later in the fall, I'll address the implications of these issues for America's global leadership and our moral standing around the world," she said of the future speeches.
She remains the Democratic front-runner in every poll of potential 2016 contenders and is expected to largely clear the field if she decides to run, though she hasn't yet made her plans public.