Cantor Says No One Is Advocating a Government Shutdown (Aug 11, 2013)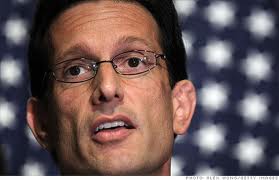 Posted by American News Online
Reported by National Review Online August 9, 2013
As the fall's fiscal drama nears, a group of conservative lawmakers is urging Republican leaders to use Obamacare as a bargaining chip. Behind the scenes, they're warning Speaker John Boehner and Senate minority leader Mitch McConnell that unless the president's signature law is defunded, they won't support a "continuing resolution" to fund the federal government.
The debate has caused tension in the ranks since many Republicans are uncomfortable with talk of a shutdown. Speaking with National Review Online on Friday, House majority leader Eric Cantor clarified the House's strategy. "No one is advocating a government shutdown," he said.
He also threw a little cold water on the "defund or shutdown" rallying cry. "In order to avoid a government shutdown, we need 60 votes in the Senate and 218 votes in the House to pass a continuing resolution," he explained. "To get 60 votes in the Senate, you need at least 14 Democrats to join Republicans and pass a CR that defunds Obamacare. Right now, I am not aware of a single Democrat in the Senate who would join us. If and when defunding has 60 votes in the Senate, we will absolutely deliver more than 218 votes in the House."
"Repealing Obamacare remains the goal," Cantor said, "as is doing everything we can to protect people from its harmful effects here and now, like delaying the mandate for people, not just big business." But for the moment, connecting government funding to that effort isn't likely part of his plan.