Gutierrez Says 40 to 50 House Republicans will back immigration reform (Aug 09, 2013)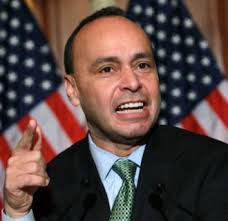 Forty to 50 House Republicans will support immigration reform, Rep. Luis Gutiérrez (D-Ill.) predicted Thursday.
Gutiérrez said many of the Republicans supportive of immigration reform don't want to be identified, but he insisted they would support comprehensive immigration reform.
"I'm not going to tell you the names of some of them because some of them I've spoken to, and they've said I'd love to do the activity with you. I want to be able to vote for it. I really don't need to draw attention to myself."
Gutiérrez also predicted only a handful of House Democrats would vote against legislation that included a pathway to citizenship for the nation's estimated 11 million illegal immigrants.
He noted that only three Democrats voted in favor of legislation earlier this year aimed at forcing President Obama to deport illegal immigrants who were brought to the U.S. as children.
Speaker John Boehner (R-Ohio) has said he will only bring an immigration bill to the House floor if it is supported by a majority of his conference.