Reid Says House leadership won't allow conference on immigration (Aug 09, 2013)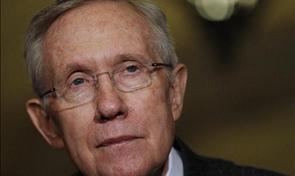 Posted by American News Online
Reported by The Hill
Senate Majority Leader Harry Reid (D-Nev.) expressed little optimism that any piecemeal immigration measures passed in the House will make their way to a conference committee with the Senate.
His comments on a Nevada radio station Friday seem to pour cold water on hope Sen. Charles Schumer (D-N.Y.) — a member of the Gang of Eight — expressed earlier in the week for merging the Senate's comprehensive bill with any House proposals.
"I'm afraid even though they passed these things piecemeal, they won't allow their members to go to conference," Reid said in a KNPR interview.
Reid noted that both chambers approved competing budgets earlier in the year and still haven't merged the two. He said Republicans are scared to debate their proposals in public.
"If we go to conference, we will win," he said. "In a public debate, it is easy. We would win that easy."


In a CNN interview on Wednesday, Schumer said he is fine with the House's plan to advance a number of small bills and eventually merge them with the Senate and was optimistic it could happen.
"Well, we would much prefer a big, comprehensive bill, but any way that the House can get there is OK by us," Schumer said. "I actually am optimistic that we will get this done."
Reid said anyone who thinks a piecemeal approach will work is living in a "dreamland." He said Congress has been trying to do that for years with little success.
"You can't fix a little piece here and come back and try to do something else because it is like a puzzle ... you have to do the whole puzzle and we've got a puzzle here we've got to put together," he said.
Speaker John Boehner (R-Ohio) has promised to only bring up any immigration bill or move it to a conference committee if a majority of Republicans support it.
On Friday, Reid gave little incentive for Republicans to negotiate a bill through conference.
"If he wants to pass something and send it over to the Senate we will take a look at it because what we will do is just go to conference and just do our bill anyway," Reid said.