Norquist urges GOP leaders to seek one-year delay of ObamaCare (Aug 07, 2013)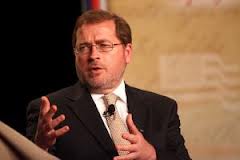 Posted By Paul Krapes - 08/07/13 7:54 PM ET

Reported by The Hill
A group of conservatives led by anti-tax activist Grover Norquist is pushing for a one-year delay of ObamaCare in the government funding bills that must be passed this fall.

In a letter to Speaker John Boehner (R-Ohio) and Senate Minority Leader Mitch McConnell (R-Ky.), Norquist and 18 other conservatives urged support for a one-year delay as part of any spending package.

"It is wrong to force people to participate in a system that is simply not ready," the activists wrote.

The letter presents the GOP with an alternative to the government shutdown threat backed by powerful conservative and Tea Party interests.

Lawmakers on that side said they will oppose any government funding bill that includes money for ObamaCare, a strategy likely to prompt a stalemate that could cause the government to shutter.

Other Republicans, including Norquist, the president of Americans for Tax Reform, are skeptical of the plan.

The alternative strategy outlined in Wednesday's letter calls for a delay in the individual mandate to buy health insurance, the tax subsides to make coverage more affordable and the range of taxes designed to pay for the law.

Deferring these provisions would throw a big wrench in the law's implementation.

Without the individual mandate, for example, premiums on the new insurance exchanges would rise sharply as young, healthy people fail to enter the market.

The current government funding bill expires on Sept. 30, setting the stage for negotiations after Congress returns from August recess.

Wednesday's letter was signed by Norquist, former chief policy adviser to Mitt Romney Lanhee Chen, James Capretta of the Ethics and Public Policy Center, and others.