Obama snubs Putin By cancelling Moscow meeting over Snowden (Aug 07, 2013)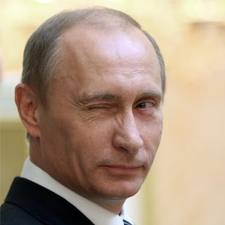 Posted By Paul Krapes- 08/07/13 7:40 PM ET

Reported by The Hill
President Obama has canceled a meeting in Moscow next month with Russian President Vladimir Putin to protest that country's decision to give former government contractor Edward Snowden temporary asylum. Obama still plans to attend the Group of 20 summit in St. Petersburg but will not sit down for a previously scheduled meeting with Putin in Moscow.
"Following a careful review begun in July, we have reached the conclusion that there is not enough recent progress in our bilateral agenda with Russia to hold a U.S.-Russia summit in early September," White House press secretary Jay Carney said in a statement on Wednesday.
"Russia's disappointing decision to grant Edward Snowden temporary asylum was also a factor that we considered in assessing the current state of our bilateral relationship," he added.
Carney said Russia had been informed about the schedule change and that U.S. officials would continue to work with their Russian counterparts on a host of issues.
"Our cooperation on these issues remains a priority for the United States, so on Friday, Aug. 9, secretaries Hagel and Kerry will meet with their Russian counterparts in a 2+2 format in Washington to discuss how we can best make progress moving forward on the full range of issues in our bilateral relationship."
National Security Adviser Ben Rhodes told The Associated Press it was the unanimous opinion of Obama's national security team that the president should skip the meeting with Putin.
Russia granted temporary asylum last week to Snowden, who leaked information about top-secret National Security Agency surveillance programs.
The White House had been thinking about skipping the Moscow meeting for weeks, with Carney offering hints at his daily press briefings in July. Lawmakers had also been pressuring Obama to take action against Russia and quickly offered support for his decision.
"The president clearly made the right decision," Sen. Charles Schumer (D-N.Y.) said in a statement. "President Putin is acting like a school-yard bully and doesn't deserve the respect a bilateral summit would have accorded him."
Rep. Ed Royce (R-Calif.), the chairman of the House Foreign Affairs Committee, said it should make clear that Russia's decision on Snowden is "unacceptable."
Sen. Rand Paul (R-Ky.), however, said that while it was Obama's prerogative to skip the meeting, he favored diplomacy. Even at the height of the Cold War, he said, U.S. and Soviet leaders talked.
"But we are not at the height of the Cold War nor is this a missile crisis so I don't think it will be that big a deal. And there are ways to send messages — sending an underling, not meeting in person, things like that," he said on Geraldo Rivera's radio show.
The Kremlin said it was disappointed about the canceled meeting.
Putin aide Yuri Ushakov told the Russian Interfax News Agency that the decision showed that the United States was "not prepared for equal relations" with Russia.
Snowden, who has been charged by the U.S. with espionage, initially left his Hawaii home for Hong Kong, where he first revealed information about NSA programs monitoring Internet use and phone records in stories published by The Washington Post and The Guardian.
He argued the country deserved to know about the two programs, which he said amounted to a domestic spying program.
Snowden left Hong Kong for Russia and initially appeared to be seeking asylum in a Latin American country such as Ecuador or Venezuela. But so far, he has not been able to leave Russia.
The Obama administration says the NSA programs revealed by Snowden generally did not look into content, and that they had stopped past terrorist plots. Lawmakers in both parties have defended the programs.
A day before the decision to cancel the meeting with Putin was announced, Obama said he was "disappointed" by Russia's decision to grant Snowden temporary asylum.
"I was disappointed because even though we don't have an extradition treaty with them, traditionally we have tried to respect if there's a law-breaker or an alleged law-breaker in their country, we evaluate it, and we try to work with them. They didn't do that with us," Obama saidduring an appearance on "The Tonight Show with Jay Leno."
Obama and Putin have long been seen as having a cool relationship, something reflected in the body language between the two men at various meetings.
Obama indicated the tensions with Russia, however, did not change his plans to attend the G-20 summit.
"I will be going to that because the G-20 summit is the main forum where we talk about the economy, the world economy, with all the top economic powers in the world. So it's not something unique to Russia," Obama said.