OBAMA Arms Syrian Islamists But Refuses to Arm Defenseless Christians (Aug 06, 2013)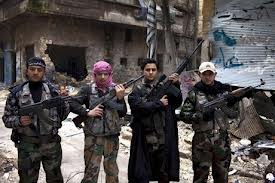 Posted by Paul Krapes on Tuesday, August 6, 2013, 5:00 PM
Assyrian International News Agency reported
On Sunday, June 23, Syrian Catholic priest François Murad was beheaded in the locality of Ghassanieh, northern Syria. The Custody of the Holy Land and Fides Agency reported on the incident. Franciscan Fr. Francois Murad was accused of collaborating with the Assad regime.

The Vatican later confirmed that Father Franҫois Mourad was murdered in Syria by rebel forces while protecting Christian nuns. While Barack Obama armed Islamists in Libya and Syria the administration has refused to arm defenseless Christians.
What does it take to pry some weapons out of Obama? He'll give weapons to the Muslim Brotherhood regime in Egypt, but not to its military. He'll give weapons to the Muslim Brotherhood militias in Syria, but not the Syrian Christians who are only asking for weapons to defend themselves.
There's a common denominator here. See if you can spot it.
Tens of thousands Syriac Christians — members of the oldest Christian community in the world — have fled their ancestral provinces of Deir al-Zour and Hasakah in northeastern Syria, residents have said.

Hasakah and other towns in northeastern Syria have long been one of the main population centres for Christians, who make up approximately 10 per cent of the country's population. Residents estimate that at least a third of Christians in northeastern Syria have fled, with few expecting to return.

"It began as kidnapping for money, but then they started telling me I should worship Allah," a male Christian resident of Hasakah who was kidnapped by jihadists said.

"I was with five others. We were tied and blindfolded and pushed down on our knees. One of the kidnappers leant so close to my face I could feel his breath. He hissed: 'Why don't you become a Muslim? Then you can be free'."

Another Christian in Hasakah said he knew of "five forced conversions" in recent weeks.

A Christian man calling himself Joseph and living in Hasakah said: "The only unprotected group are the Christians. The Arabs had arms coming from Saudi and Qatar, the Kurds had help from Kurdistan. We had no weapons at all."

Local residents said many Christians had tried to join the rebellion against President Assad, but their efforts were marginalised early on by sectarian minded Sunni rebel groups.

Bassam Ishak, a Christian member of the main opposition bloc the Syrian National Coalition, who comes from Hasakah, said he and his colleagues had tried "several times" to approach western officials asking for weapons for Christian groups to defend their areas.

"The West wants to arm the seculars or 'West friendly' people, well we, the Syriac Christians are those people. We want arms to protect our communities," he said. "We spoke to western diplomats asking for help, and everyone ignored us".
If only they were Muslims, Barack Obama would give them weapons. If only they would become Muslims, is Obama's implicit message, they could be free.